This item will be shipped from the Netherlands🇳🇱.
The first moisture checker with pF indicator for your home.
For the first time ever, a home-grade moisture checker has been equipped with a pF indicator (available water capacity). This way the root's ability to absorb water - or the plant's "thirst" becomes visible (patented in Japan, No. 5692826).
The high quality of SUSTEE prevents root rot caused by improper watering.
"To better our product we keep testing and researching in cooperation with
the Tokyo University of Agriculture and farmers." 
From moth orchids to hydrangea, from roses to herbs and even succulents. It is easy to use for all kinds of plants and soils. It can be used with potting soil, barkdust, peat moss and hydroponics. 
Replace core every 6-9 months for best results.
1. Set. Insert Sustee in between ▼▲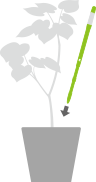 2. Water. It will change color from white to blue within 20 to 30 minutes after watering.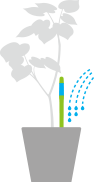 3. Monitor. Blue ⇒ enough water in soil. White ⇒ in need of watering.

We have three stick sizes available:
W10mm×D8mm×H120mm / 4.3g - for small plants 

W10mm×D8mm×H180mm / 5.9g - for medium size plants

W10mm×D8mm×H255mm / 8.0g - for bigger plants